While thinner and softer diapers remain leading trends in the baby diaper market, the last several years have seen a major shift regarding the transparency of ingredients and materials in these products that come in contact with baby's sensitive skin. Millennial moms and dads are the driving force behind this.
Actress and mother Jessica Alba—who, born in 1981, is considered a millennial—founded the Honest Company in 2011 because she was seeking safe, effective products for her family. Honest is "a wellness brand with values rooted in consciousness, community, transparency and design," according to the company's website.
Pricie Hanna, managing partner, Price Hanna Consultants, credits the Honest Company for emphasizing transparency in diapers and other products. "It is part of their name, if you will," she says.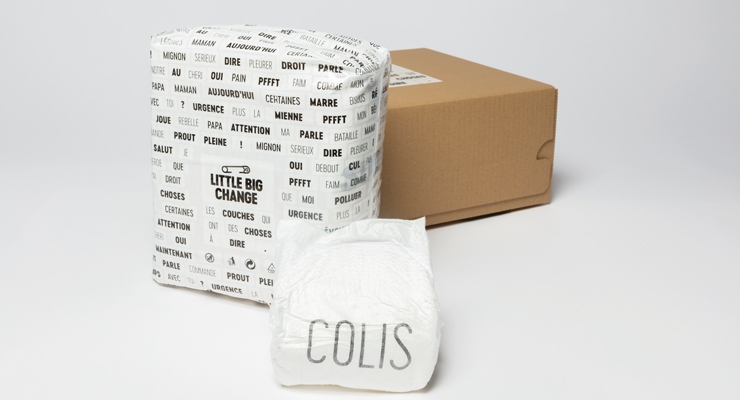 From the beginning Honest has revealed information about its diapers, and Hanna considers the company still on the leading edge of disclosing the most information. "In addition to disclosing the ingredients, Honest discloses where the materials for some components originate, which is unusual," she notes.
Diaper giants Procter & Gamble and Kimberly-Clark have become more transparent about ingredients, and newcomers to the diaper market tend to put material information front and center.
One of these new diaper brands is Ontex's Little Big Change, which launched in September. These "healthy" nappies are available through an online subscription at an affordable price.
The idea behind the formation of Little Big Change was to create a disruptive brand that offers a better alternative versus both the traditional and eco-niche baby brands, not only with regards to the products offered but also in the way of delivery and service, according to Ontex.
When the brand launched last year, Ontex revealed information about all components of the diaper. Ontex executives observe that transparency is a value that is sought after in today's world that impacts all products and services. According to the company, people—prospects and customers alike—are asking brands to be more transparent on sourcing, production, social impact, etc. So it was only natural for the company to provide as much transparency as they could in regards to its diapers.
Little Big Change diapers are made without toxic or irritating substances, and are certified Dermatest 5 stars, Oeko-tex 100 and FSC. They are hypoallergenic and provide up to 12 hours of protection. The fluff in the absorbent pad is only made with cellulose originating from trees and is bleached with oxygen and guaranteed T.C.F. (totally chlorine free). Little Big Change describes its SAP (super absorbent powder) as a synthetic component found in all disposable nappies. It is perfectly safe and ensures effective absorption. The inner layer is made of polypropylene, a very soft material and is danger-free. It is this part that will directly touch the baby's skin, and there are no additives or harmful products in this layer. Its outer layer is made of polyethylene, woven very lightly to allow the skin to breathe to the fullest. Meanwhile, the anti-leak barrier is also very soft, with elastic straps that don't squeeze the baby's bum too much, which is also made without latex.